Company / Ship Security Officer Course
To provide training for all those acting or preparing to act the role of the Company/Ship Security Officer in line with the ISPS Code for all day to day operational aspects.
Regulatory Reference: IMO Model Courses 3.19 & 3.20, ISPS

400€
SCHEDULED SEMINARS Days: 2



INHOUSE /
ONBOARD TRAINING
Course Objectives
To provide company/ship security officers with the training necessary to meet their obligation under the Ship and Port Facility (ISPS) Code.
Regulatory Reference
Who Should Attend
Candidates for the Company or Ship Security Officer Position and all those involved in ISPS Code implementation.
Training Methods
Course provided by a mixture of lecture, case studies, exercises and final exam.
Certification
A Certificate of Training is provided to participants on successful completion of course exam.
Course Elements
Introduction to ISPS Code
Maritime Security Policy
Security Responsibilities
Ship Security Assessment
Security Equipment
Ship Security Plan
Threat Identification, Recognition, and Response
Ship Security Actions
Emergency Preparedness, Drills, and Exercises
Security Administration
Security Training
The Ship Security Officer course has been recognized as an approved training course as outlined in the STCW Convention, as amended.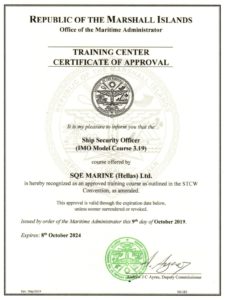 Related Courses & Solutions
---

400€
SCHEDULED SEMINARS Days: 2



INHOUSE /
ONBOARD TRAINING