Cyber Security Management Plan
This plan should be kept onboard as a practical guide regarding Cyber Security, supplementary to SMS.
Regulatory Reference: BIMCO guide lines, EU reg.679/2016, IMO Resolution MSC.428 (98), TMSA III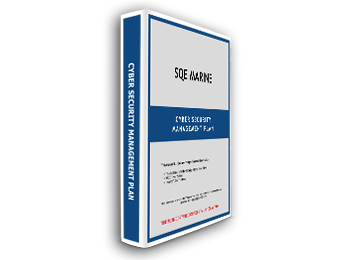 Regulatory Reference
BIMCO has issued Guidelines in order to address Cyber Security issues in maritime industry. Additionally USCG has developed Cyber Security Strategy and issued a number of Cyber Bulletins covering various aspects of Cyber security. Resolution MSC.428 (98) requires cyber risks to be managed and addressed by the SMS of shipping companies. Also, the UK Department of Transport has issued a Cyber Security Code of Practice for ships, aiming to provide detailed information on implementing and maintaining good cyber security practices on maritime vessels. Finally, EU Regulation 2016/679 regarding personal data protection is expected to enter into force on 25th May 2018.
As best practice, Companies have to issue a Cyber Security Policy and secure their premises, equipment /systems/procedure (on board and ashore) and employees (on board and ashore), through an effective plan managing all possible risks/threats of Cyber Technology that may influence the appropriate performance of systems/personnel and operations.
SQE MARINE offers an innovative solution, a Cyber Security Management Plan to provide guidance, effective planning, risk management solution for a shipping Company and support Company's SMS both shore and ashore in order to cover the Company and managed vessels from Cyber Incidents. Additionally the requirements of GPDR regulation have been incorporated to relevant sections.
Contents of the Plan
Introduction & training
Threats / risks
Managing the risk
General Data Protection
Cyber security policy & General Data Protection policy
Office contingency plan
Vessel contingency plan
Cyber security incident investigation
Forms (including Data Protection impact Assessment & Privacy Note)
Risk assessment library (with already prepared assessments)
Benefits
Real life approach
Best practice solution
Full support provided after development in line with our Document Support Policy
We will ensure
Full compliance with national and International legislation
Real life documentation addressed to senior officers and crew onboard
Training Program and support provided
Full integration of any client specific requirements
Request Info