Mooring Lines Management Plan
An operational manual to provide guidance and instructions for safe Mooring operations in line with the new SOLAS requirements from January 2024.
Regulatory Reference: BHP, IMO MSC. 1 Circ. 1175, IMO MSC. 1 Circ. 1175 Rev.01, IMO MSC. 1 Circ. 1619, IMO MSC. 1 Circ. 1620, OCIMF MEG4, Rightship RISQ, SOLAS II-I Reg.3-8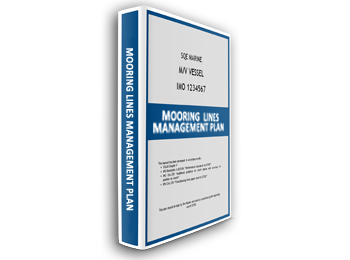 Regulatory Reference
SOLAS II-I Reg.3-8 (Entry Into Force 1/1/2024)
IMO MSC.1 Circ. 1175 (for ships built prior 2024)
IMO MSC.1 Circ. 1175 rev.1 (for ships built after 2024)
IMO MSC.1 Circ. 1619
IMO MSC.1 Circ. 1620
OCIMF MEG-4 requirements (already into force for Tankers)
RiSQ 3.0 Chapter 10 Items that can be supported by documentation, and they are not operational (on board implementation of the plan and other crew actions and performance)
BHP Port Hedland Mooring Management Standard for ships calling to Port headland (already into force)
Background
In line with the latest requirements ships are required to be equipped with a Mooring Lines Management Plan to meet SOLAS and other operational requirements(see regulatory reference applicable to each ship). Scope of the manual is to assist operators to ensure that the mooring lines & systems are inspected, operated and maintained in accordance with Terminal, Port and Regulatory requirements. Approval of the Documentation should be in line with the guidance provided by the Administration or a Recognised Organisation (RO) and trading requirements.
During December 2020, IMO issued the MSC.1 Circ.1619, including new revised guidelines on the design of mooring arrangements and the selection of appropriate mooring equipment and fittings for safe mooring, Further to this circular, the MSC.1 Circ. 1620 Guidelines for inspection and maintenance of mooring equipment including lines, and MSC.1 Circ. 1175/Rev.1, have been issued/renewed in order to support the new requirements. The above changes are applicable to ships built after 1-1-2024. However, tankers have already complied with these requirements since July 2018, when the revised OCIMF MEG-4 guidelines became effective. It is important to note that for ships built prior 1-1-2024, the previous version of MSC.1 Circ.1175 remains as the applicable standard for construction items (MBL,SWL etc). However, these ships should also conform with inspection /maintenance requirements as per MSC.1 Circ. 1620.
Compliance Required
Plans to be developed will comply with:
Verification
IMO mooring requirements from 01-01-2024 require each ship to have procedures for inspection, maintenance and monitoring mooring lines introducing new definitions for Ship Design MBL, LDBF etc.
Deadlines
IMO requires that all ships should have documented procedures for inspection, maintenance and monitoring mooring lines, with the new regulation entering into force (EIF) on 1/1/2024.
Our Experience
SQE Marine has developed more than 1,000 plans in line with OCIMF MEG4 for Oil Tankers operated by more than 100 clients since 2018 with positive feedback through the vetting inspections that these ships have successfully passed so far. Furthermore we  have already developed more than 500 plans for dry bulk ships (bulk carriers, General cargo, Containers and Ro-Pax).
Indicative Contents
Plan covers all IMO related Circulars and Local (BHP) requirements including, General ship particulars, Mooring lines & equipment, Inspection, maintenance and retirement procedures, end for end policy, Risk management, safety or personnel and human factors.
Example Structure of deliverable manual as follows to cover both requirements:
MMP – 01: INTRODUCTION
MMP – 02: MOORING PLANNING
MMP – 03: RISK MANAGEMENT & SAFETY ISSUES
MMP – 04: LINE INSPECTION & MAINTENANCE
MMP – 05: EQUIPMENT INSPECTION & MAINTENANCE
MMP – 06: POSTERS
MMP – 07: FORMS
MMP – 08: COMPLIANCE MATRIX
Info/Plans Required
Ship Specific Information (Questionnaire to be submitted)
Benefits
Master will have a guidance with respect to Mooring System & Lines Management
Procedures as per vessel specific arrangements
Detailed instructions and responsibilities
Updated with latest requirements and legislation
Easy record keeping
We will Ensure
Full compliance with national and international regulations and common marine practice
Real life documentation addressed to senior officers and crew onboard
Full integration of any client specific requirements
Full support provided after development in line with our Document Support Policy
Request Info