Fully editable drill scenarios for ship shore drill, including all associated records (price per scenario).
Regulatory Reference: ISM Code, TMSA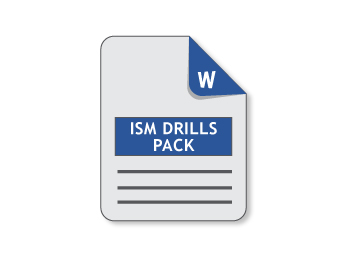 Regulatory Reference
Background
Drill Pack is an MS WORD document developed to provide guidance and real life worked examples regarding a Ship/Shore Drill. Each ISM Drills Pack includes:
Introduction to the drill Scenario
Guidelines to the DPA for the drill preparation
Guidelines to Master for proper drill execution
Sample Scenario
Sample office records
Sample messages to be exchanged to and from the vessel
Flag notification of safety incident
Drill evaluation guidelines
It is a fully stand alone MS Word document divided into five sections as follows:
Introduction and regulatory requirements
Ship/Shore drill scenario including instructions to the vessel for participating in the drill
Office Records (items to be crosschecked for the drill)
Sample Messages to be exchanged between office and vessel
Drill Evaluation (office evaluation and ship evaluation)
Potential Users
Company's Designated Person Ashore (DPA)
Master, Safety Officer
Training Officers for Drills Training
Scenarios Available
Realistic Drills Packs / Scenarios Available
ISM Drill Pack – Scenario 1
Heavy weather damage
Steering Gear Failure
Grounding
Hull Failure
Flooding
Salvage
ISM Drill Pack – Scenario 2
Cargo Shifting
Excessive List
Cargo Jettison
Man Overboard
Search & Rescue
Abandon
ISM Drill Pack – Scenario 3
Main Engine Failure
Power Failure
Collision
Fire/Explosion
ISM Drill Pack – Scenario 4
Fire
Encl. Space Rescue
Personal Injury
Helicopter Ops
ISM Drill Pack – Scenario 5
ISM Drill Pack – Scenario 6
ISM Drill Pack – Scenario 7
ISM Drill Pack – Scenario 8
Mooring line failure
Crew Injury
ISM Drill Pack – Scenario 9
Note: Price indicated on the right is per scenario. Please indicate which one selected.
Benefits
Quick to use with step by step instructions
Simple Scenario suitable for all vessels, plain English used
Minimum effort to comply with ISM/ISPS Code
May be used as guidance for different ISM or ISPS drills
Boost Drill realism the simple way
We will Ensure
Full Regulatory compliance with national and International legislation
Real life documentation addressed to senior officers and crew onboard
Training Program and support provided
Full integration of any client specific requirements
Request Info