Support service to provide guidance and preparation for planned vessels' Lay Up periods.
Regulatory Reference: IMO MEPC 7. Circ. 9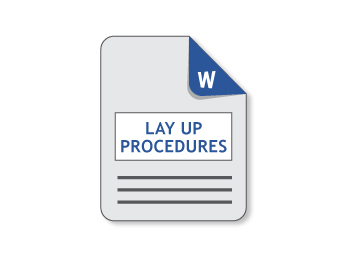 Regulatory Reference
About the Solution
Ship operators may find that they are unable to employ their vessels profitably and take the decision to remove it from service.
It may be that the owner has a reasonable expectation that demand will quickly recover, so will merely find a suitable location and keep the vessel fully functioning and ready for employment, with her crew aboard. Additionally the owner might view the market less optimistically and decide to take the vessel out of service for a period of months, or even years, until demand is restored.
These periods are called "Lay Up" periods and there are series of action and requirements for Ship owners to implement in order to comply with relevant legislation and requirements.
Contents of the Pack
Introduction and general requirements
Actions prior Lay up Period
Actions during Lay Up Period
ISM & ISPS related issues
Action and Emergency Response Plan
Preparation Checklists
Benefits
Real life approach
Best practice solution
Full support provided after development in line with our Document Support Policy
We will Ensure
Full compliance with national and International legislation
Real life documentation addressed to senior officers and crew onboard
Training Program and support provided
Full integration of any client specific requirements
Request Info