OCIMF Recommendations
OCIMF has published guidance on how to improve policies and procedures concerning the safe use of Electronic Chart Display and Information Systems (ECDIS).
Scope of Guidance
With the increase of vessels using ECDIS as primary and secondary navigational charts, several navigational incidents have been reported, where one of the contributory factors has been ECDIS-related. As such, the guide summarizes the contributing factors identified from the analysis of navigational incidents as well as Ship Inspection Report Programme (SIRE).
Contributing factor analysis
OCIMF analyzed navigational incidents (11 published reports and seven company investigation reports) between 2016 and 2018, involving tankers fitted with ECDIS. SIRE observations related to ECDIS were also analyzed to identify common themes. The findings have been categorized into three main sections:
Human factors and machine interface.
ECDIS navigation procedures and practices.
ECDIS hardware, software and ENC data.
The findings were also analyzed by taken into consideration the four stages of voyage planning:
Appraisal
Planning
Validation
Execution and monitoring
SOLAS Chapter 5, Annexes 24 & 25 titled "Voyage Planning" and "Guidelines for voyage planning", the traditional stages of voyage planning do not include Validation stage. However experienced mariners, at the end of planning stage reviewed the developed plan, and presented it to bridge team. This was an unofficial validation stage. Nonetheless, planning on ECDIS requires a detailed review and validation in order to identify possible gaps during planning related to ECDIS specific characteristics and factors.
Findings
Stage
Human Factors and Machine Interface
ECDIS Navigation Procedures and Practices
ECDIS Hardware, Software and ENC Data
Appraisal

Lack of ECDIS system familiarity and lack of knowledge of ENC symbols
Failure to interrogate chart cautions and symbols, such as isolated danger marks or cautionary areas
Overreliance on ECDIS
Largest scale ENC not uploaded
ENC data and other available information not properly analysed (including sector light zones, sailing directions, mariner's handbook and other relevant sources)

Unclear ECDIS carriage policy
Largest scale ENC not available
Latest updates not applied to ENC database
Under Keel Clearance (UKC) calculations do not consider Category Zone of Confidence (CATZOC), squat or height of tide
Controlling depth (safe water) not accurately defined
Unofficial charts used
Minimum clearing distance from hazards not clearly defined (vertical – UKC and horizontal – distance off)

Objects inaccurately charted
ENC borders not aligned
Chart and World Geodetic System (WGS) 84 datum discrepancies
Features with area boundaries (such as reefs) are incorrectly programmed as point features
Up-to-date port/berth information not shown on latest ENC

Planning

Route plotted very close to or over navigational hazards
Knowledge gaps and inability to distinguish between alarms, cautions and indicators
Varying standards of ECDIS generic training, type-specific training and familiarisation
Reducing safety margins (such as UKC or distance off)

Berth-to-berth passage plan not available
Incorrect application of safety depth and safety contour
No-go areas and manual contours not defined as per calculated safe water depths or not made alarmable
Safety parameters and alarm limits not set
Cross-track Corridor (XTC) wider than available width of navigable waters
Environmental factors (such as tidal streams) not considered in wheel-over calculation

Software limitations for setting features such as wheel-over positions, manual no-go areas, manual layer and other information
Course information not readily apparent over various legs
Programmed safety contour layers not available at required safe water depth

Validation

Automatic route check alerts ignored
Lack of familiarity with route validation feature

Visual checks not undertaken for each leg of the passage
Manual route validation not conducted
Automatic route validation feature not used
Route validation (visual, manual and automatic) not undertaken by the Master as well as the Navigating Officer
Route validated checks undertaken on a smaller-scale ENC
After passage plan amendment, route not re-validated by Navigator and re-approved by Master

Excessive number of alerts generated during system route check function
Route validation feature is too complex to use

Execution and Monitoring

Bridge distractions
Incorrect route loaded on ECDIS
Watchkeeper fatigue or lack of alertness
Deviation off-track not noticed
Audible alarms disabled
System alerts ignored
Acknowledging alerts without investigation (such as exiting XTC, anti-grounding alarm or critical points)
Look-ahead not set properly
Lack of user knowledge and system familiarity; for example, in the case of pilots and new on-signers
Display settings not optimised for day, dusk, night light conditions
Lack of familiarity with contingency plans and procedures

Planned safety settings changed or not set before execution of passage, or subsequently
Compilation scale not being used (navigation on over-scale or under-scale ENCs)
Minimum layers for safe navigation not being displayed
Position verification/plotting not being undertaken using combination of line of positions, radar overlays and/or parallel indexing, as and where available
Look-ahead settings inappropriate or changed randomly
Position not being monitored during pilotage
Use of Automatic Identification System (AIS) on ECDIS as primary means of collision avoidance
Lack of ECDIS-related contingency plans and procedures

Course information not readily visually apparent over various legs
Inadequate cyber security measures
Visual perception of ECDIS data when set to day, dusk or night preset modes
Issues with ECDIS power back-up
The flow of actions is based on the following:
System Installation ⇒ Procedures to support the System ⇒ Human implementation of procedures
From finding analysis without inserting any severity factors, it is revealed that the most challenging area is ''Procedures & Practices''.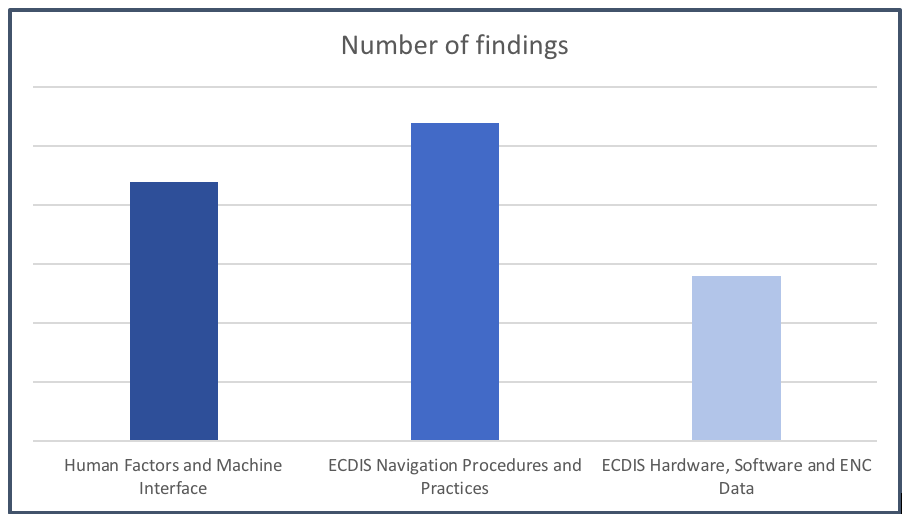 Actions required
Ship Managers should:
Ensure that installed systems can support the latest industry specifications and requirements
Implement procedures (within SMS or as a stand-alone plan) in order to provide guidance for the use of ECDIS systems and the
integration of them within Bridge Operating Procedures
Implement an effective system to verify, check and review the following:

Officers' assigned as head of navigational watch competence on the basic ECDIS procedures
Their familiarity with ship specific ECDIS system use
Effectiveness of ECDIS procedures

Provide adequate training and feedback to crew members regarding use of ECDIS and analysis of incidents having as contributing
ECDIS related factors and best navigational practices as implemented through the industry.
Masters should:
Ensure strict implementation of Company's procedures regarding use of ECDIS
Review, validate and approve all developed voyage plans
Conduct a detailed briefing on the voyage plan prior departure
Deck Officers assigned as in charge of navigational watch should:
Follow the Company's developed procedures for the ECDIS use
Follow exactly the approved voyage plan and in case of changing situations to implement the related Company's procedures (Calling the Master procedure, Master's Standing orders etc)
Be proactive and implement all best navigation practices, as provided through Company's related training sessions.
You may also find further information on OCIMF Guidance on safe use of ECDIS at SAFETY4SEA
See also our related products
SQEMARINE can provide guidance on amending existing manuals or providing updated new P&A manual as required by client.